I stayed at my own Caravan Park. And the experience was astonishing.
It wasn't even our original plan when a couple of Perth girlfriends on a business trip landed in Kununurra.
Our initial idea was to book one of those breathtaking villas overlooking Lake Argyle Resort for the weekend.
When we couldn't get a booking we carved out Plan B; Kimberleyland's new Waterfront Cabins.
It would be my first stay in them.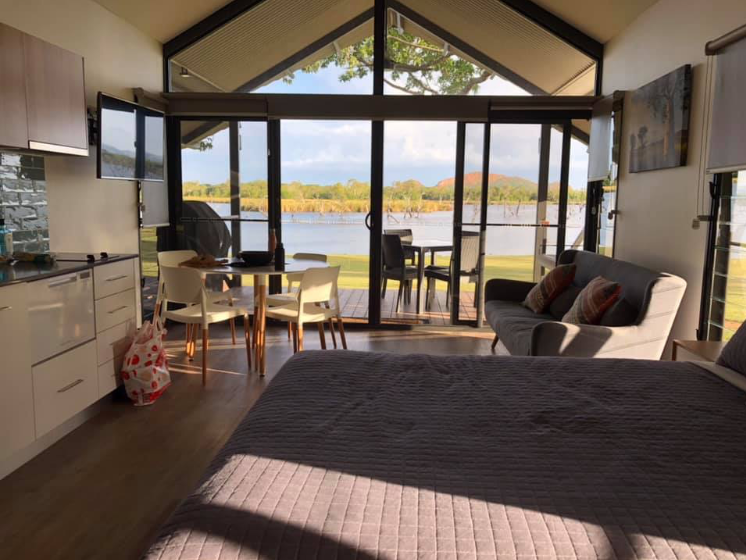 Determined to make those most of our time the weekend... 
We began with a bottle of bubbles inside the cool cabin air-conditioning, overlooking the stunning waters of Lake Kununurra through floor to ceiling windows.
The connection to the water felt very close.
The relaxation washed over us instantly as we clinked our flutes and welcomed in our weekend.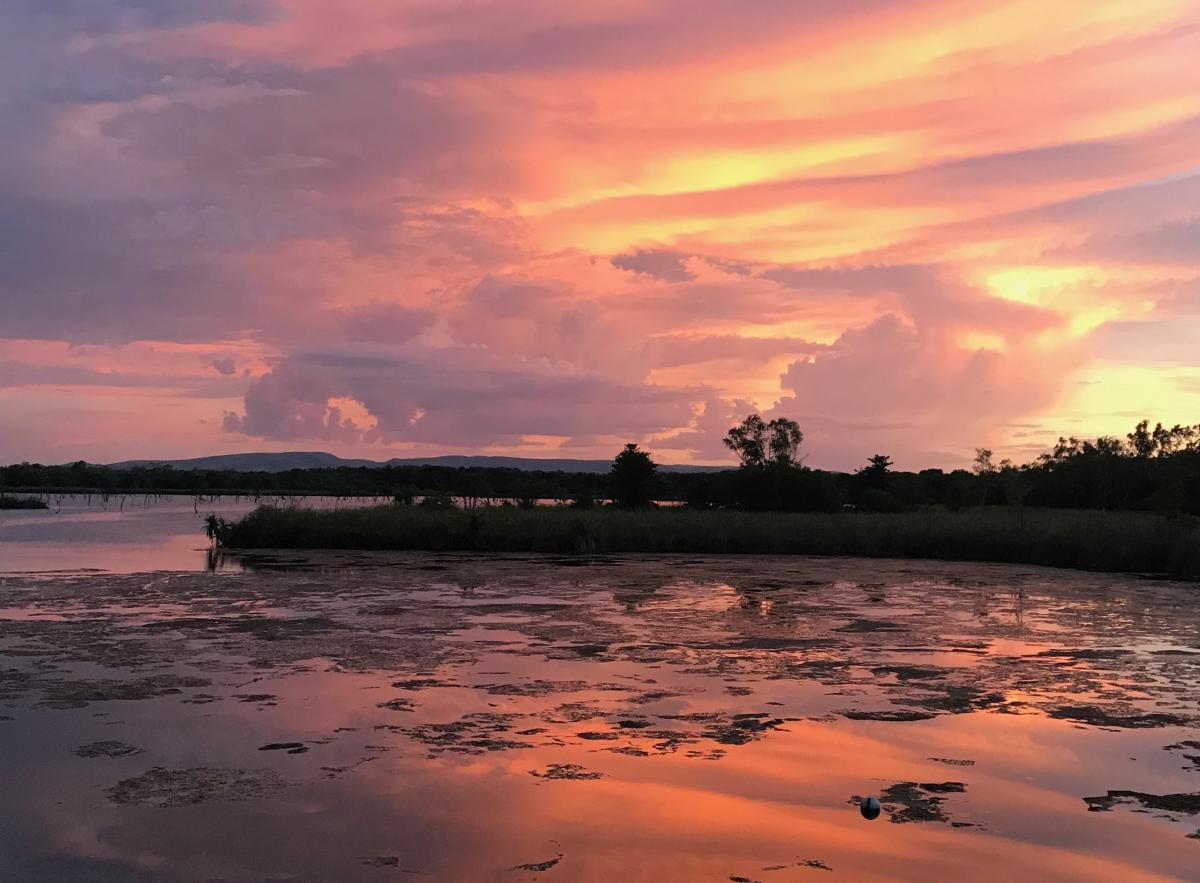 On such a special occasion we organised for Park Manager Dean to fire up the houseboat "Pink Diamond". 
We were escorted on a divine cruise down Lake Kununurra.
The backdrop of pink and orange sunsets, amidst soul-stirring tropical thunderstorms in the distance.
It was exactly the setting we wish to show off to our southern friends.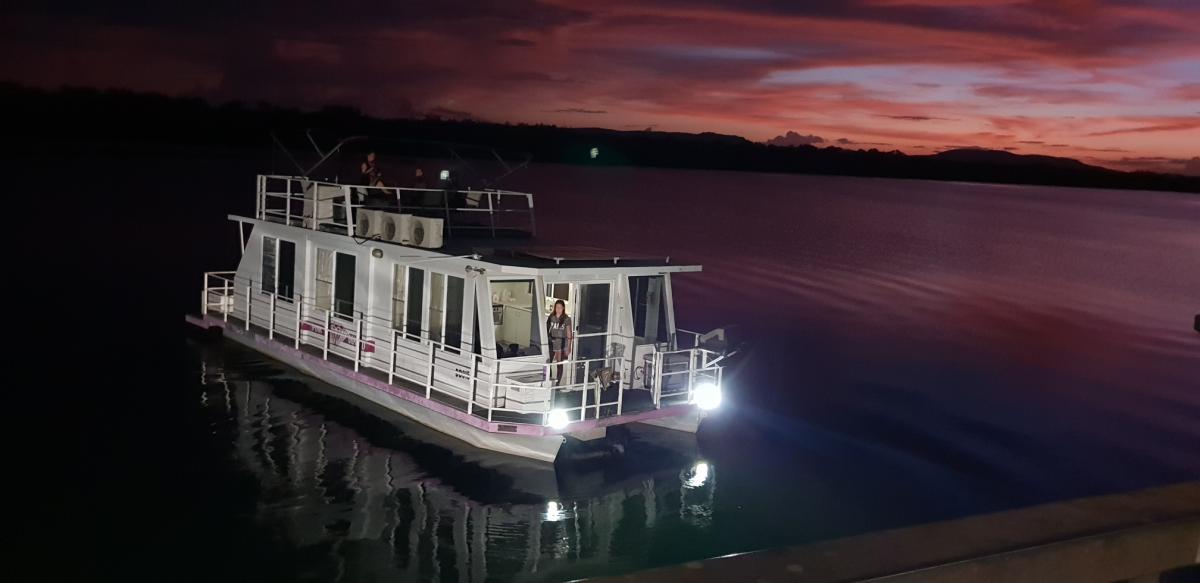 We arrived at the Ord Pumphouse Bar and Restaurant which is set in the original pumping station of the Ord Valley irrigation area.
Its history and character have been captured perfectly by proprietors Tom and Dom.
A little blurry the next morning, we wondered down to the onsite coffee shop 'Spilled the Beans' which operates out of a funky little converted shipping container.
It's regarded as the best coffee in town and it was at our fingertips!
Settling into the daybed on the private deck, we sipped our lattes, locked our eyes on lake in front of us and almost became hypnotised by the tranquillity.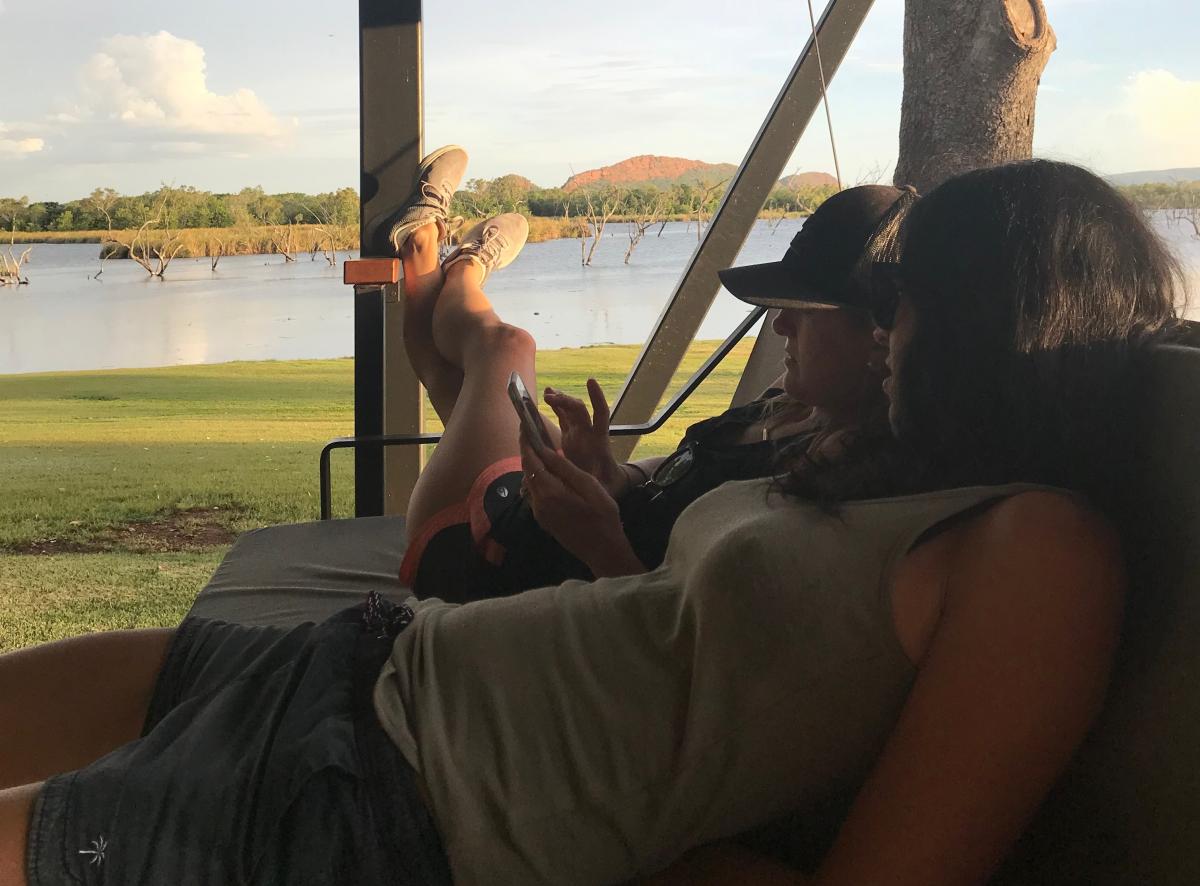 Wanting to show off the best of Kununurra, a trip to see real pink diamonds at Kimberley Fine Diamonds was in order.
The bling and excitement certainly brighten our day as we tried on our favourite pieces and fantasised for the morning.
Sorry husbands, it was a blast!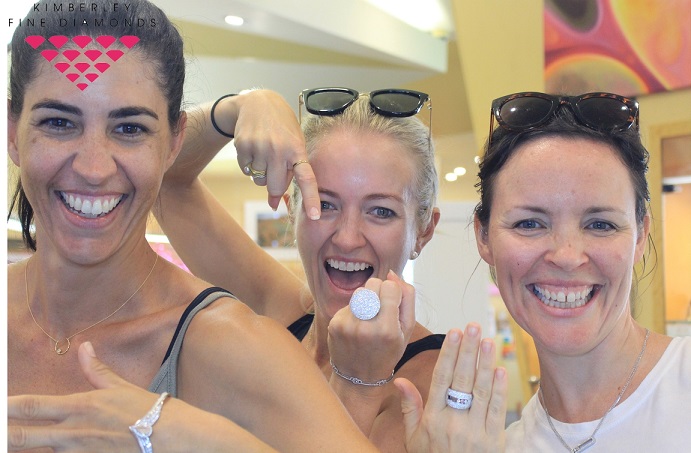 No trip to Kununurra during the Wet Season is complete without a waterfall adventure.
Middle Springs is a classic and still my absolute favourite.
It is my favourite place in the world. It only runs a few months of the year and is very special.
We treated our city friends to some 4WD'ing with creek crossings and mud spray! On arrival we trekked up only 20 or so minutes to arrive at this pristine and secluded spot, all to ourselves. 
We sat underneath the powerful stream of water, pounding our tight muscles in pure bliss.
If there is heaven on Earth, this is the place.
A refreshing swim in the cool, serene and peaceful Sweetwater and we felt like our essence had been reset.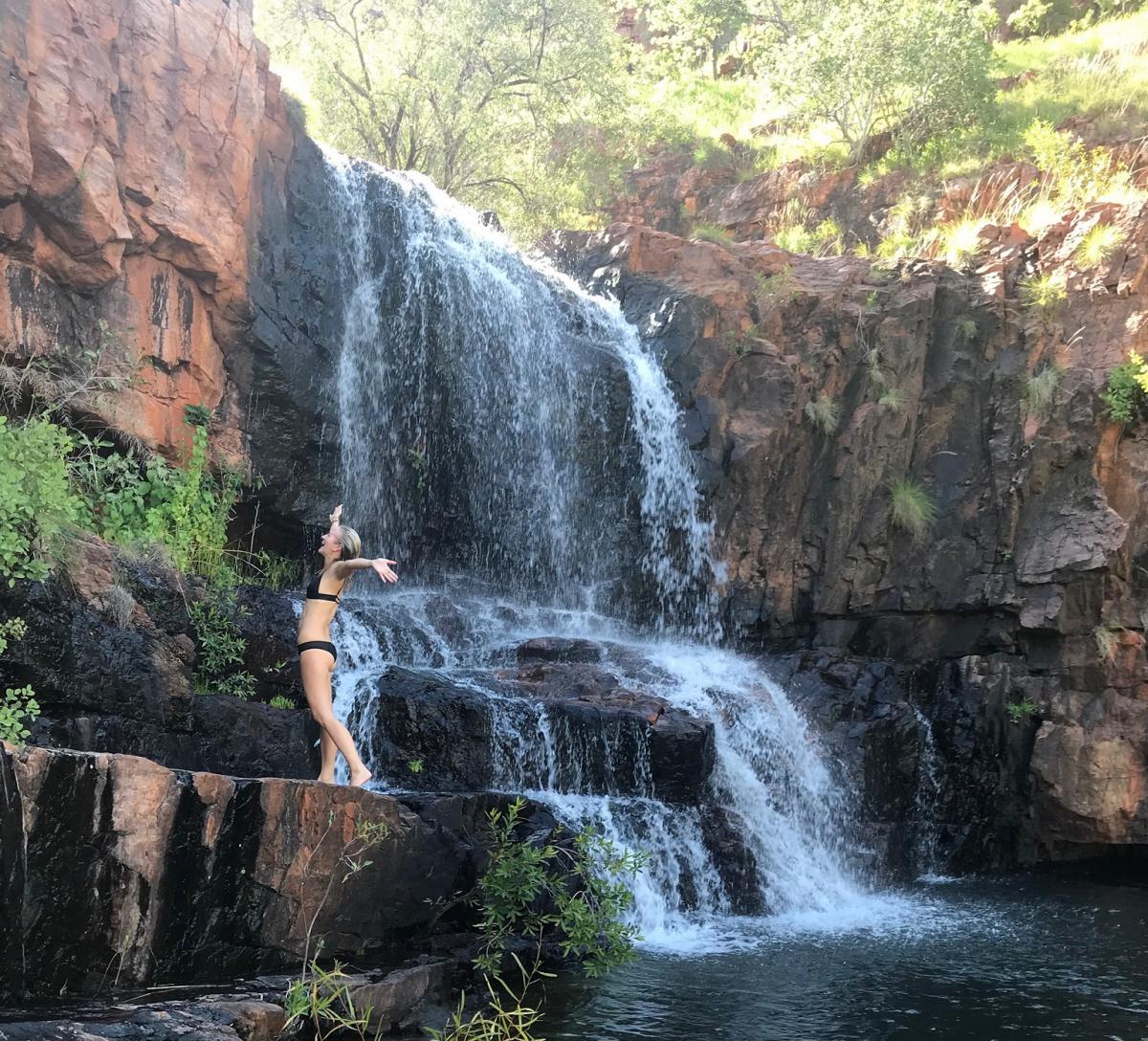 That night we wander down to the "viewing point" to check out Gummy the resident freshwater crocodile, or as Elsa renames him "Snappy".
As you may have figured out, he has no teeth.
What you might not know is that he's a social media sensation and a few croc-action selfies results in Elsa's most successful Insta story on record.
As we relax with a Gin & Tonic on our private deck we watch the boat owners of Kununurra cruise in to the jetty.
It feels a bit like we are the Penthouse on High Street, just with a lake and boats instead.
Once again we witness an amazing lightning show that lasts for hours which leaves our Perth friends in awe.
"Is this normal??", they ask. Kununurra experiences the second-highest number of lightning strikes in Australia so while it's 'normal' for us, it's actually pretty special.
Especially when your seats are first class on the Kimberley Waterfront.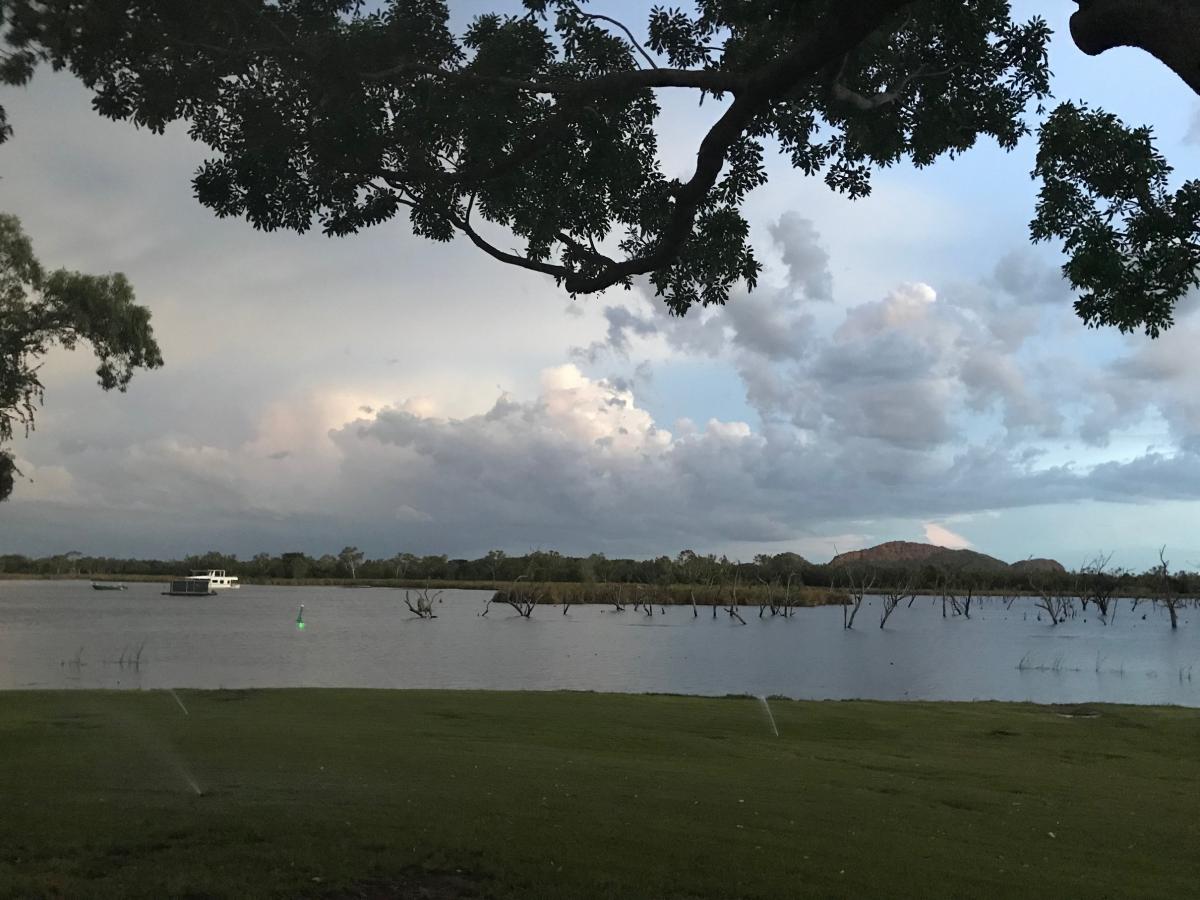 We sleep in our final morning, sipping our Julius Meinl blend coffees and devour the awesome bacon and egg mini-pies that accompany them.
We linger in the peace and quiet, spotting crocodiles and aquatic birdlife wishing for the stay to last longer.
What did I learn from the experience of staying at my own caravan park?
The luxury of the cabins did not elude me, I knew that they'd been architecturally designed and carefully built to a deluxe standard but it took experiencing the stay to really appreciate how "nice" it really was. The thing that surprised me the most was just how relaxing it was to be there, how nice the setting really was.