When is the best time to visit Kununurra and the Kimberley?
There's a saying in the Northern Territory that we sometimes borrow, "Never visit the Top End in a month with R in it".
We can confirm that May, June, July and August are most definitely our most popular visitors' months. Contrary to that though…. When you ask when the locals' favourite time of year an unequivocal "Wet Season" jumps out of their mouths.
Let's explore. We break it down month by month with highlights and pitfalls.
January
Often the local's favourite month of the year! Why? It's wet and it's holidays time. With steamy temperatures of 25-36'C it rains on average 13 days in January with a solid 210mm. There is something very special and evoking about the wet season, it stirs your soul. It's a very powerful, something that we can't put into words adequately. Most Australians will never experience it as they frolic on Australian summer beaches in the south. 
The highlight? Waterfalls, waterfalls, waterfalls AND the time to do them. If the dirt roads get waterlogged and closed, no worries. Jump in a tinny and head up the river where there are endless waterfalls and tracks, so much so, that even locals are still finding new waterholes.
The pitfall? If the weather doesn't follow the rules and when there's no rain, it's pretty ugly. Humid with no rain, above 40'C. Having a great time depends entirely on getting the right weather so absolutely check the forecast! Having just experienced the worst wet season on record we've been reminded of just how risky this can be!  Also consider, many of the very popular "touristy" places like El Questro and Home Valley Station remain closed for the Wet Season.
Want to try something unique this January? Head down to the pub for the Australia Day Cane Toad races!
February
Much the same as January in terms of temps, rainfalls and days of rain. For visitors, the locals tend to go back to work and school so there are even fewer people basking in waterfalls.
Highlights; waterfalls all to yourself.
Pitfalls; non-raining days and still quite a few places shut.
Worth considering; a helicopter flight to a remote waterfall location. Hint; google Revolver Falls!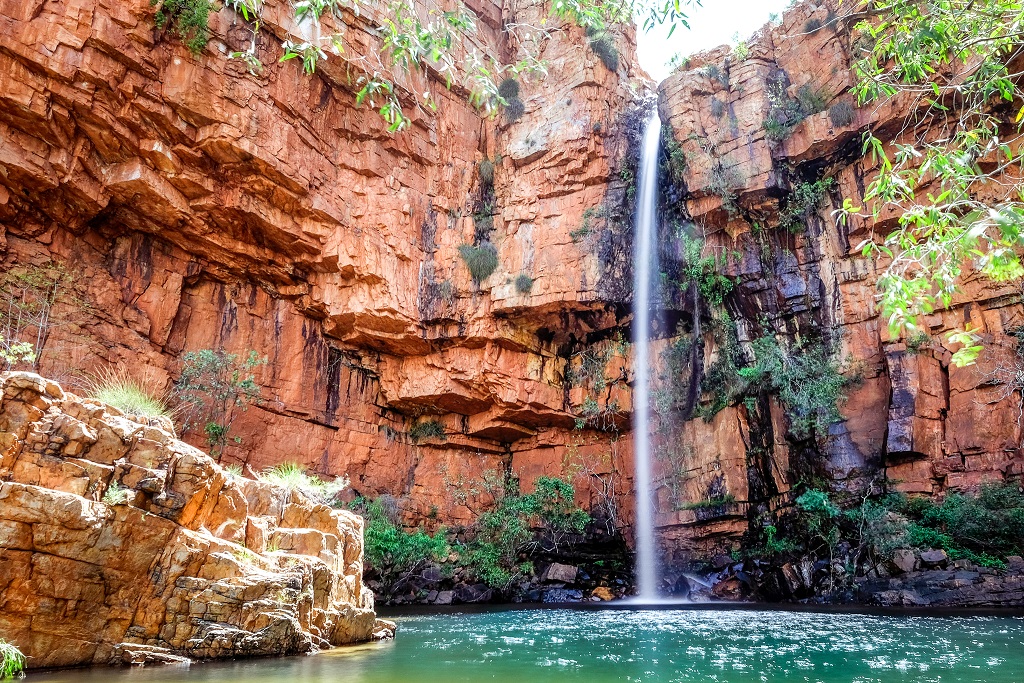 March 
The rain starts to thin out with only 9 rainy days delivering 147mm of rain. The days without rain can be pretty difficult, we can't lie. The advantage of this month is that there can still be water running but the roads tend to dry out, so they are accessible. Generally, this is the last month to swim in wet season waterfalls like Black Rock.
Highlights; waterfalls accessibility.
Pitfalls; The heat on non-rainy days.
April
The heaviness of the humidity disappears nearly as fast as the rain with only two days of rain totalling 30mm, temps remain similar with 22-35'C. This is the month when Dry Season attractions generally open including El Questro, Home Valley Station and the Bungle Bungles Purnululu National Park. The Gibb River Road often opens in April too. The flora and native wildflowers can be particularly amazing this time of year (post Wet Season), it's that's up your alley we recommend taking a trek through Mirima National Park or the Keep River National park (just across the NT border).
The highlights of April? Depending on the final rains it can often be the time of year where it is still green from the wet season, roads are freshly graded and smooth to drive, waterfalls like Emma Gorge at El Questro are at their best and there aren't too many people who can endure the heat so crowds are no problem!
Pitfalls? Not everything is open yet and it's still hot so outdoor activities are best suited to the mornings with easy/slow activities in the afternoon.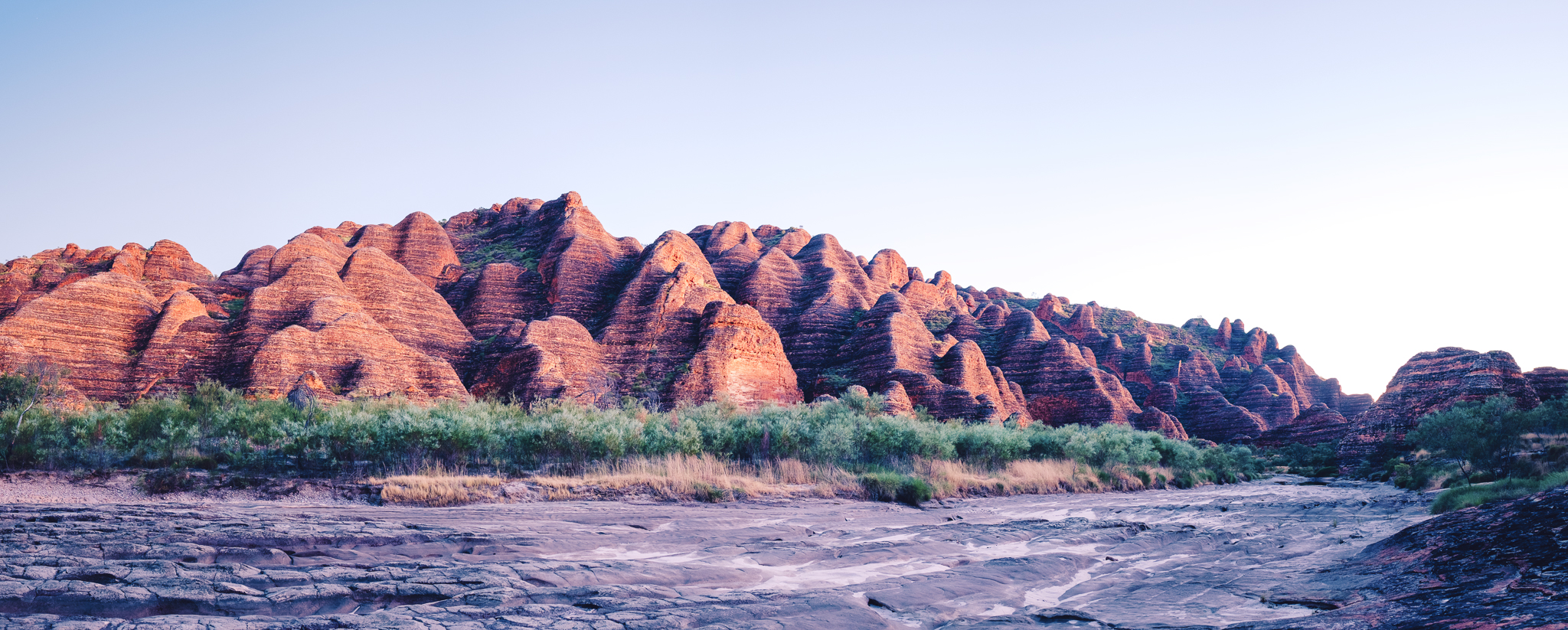 May
Ahhh, May. The weather starts to turn to cool and crisp. The rain has stopped and temperatures cool to 19-33'C. For any tourist attractions that didn't open in April, they will in May. While May still enjoys most of the advantages of April without the humidity and as much heat. When our friends ask which month they should come to visit, personally we say May! 
The highlight? The iconic 10-day Ord Valley Muster festival which features the Wild Walks, Native bush tucker food events, art events and the famous Kimberley Moon Experience.
The Pitfalls? We can't say which day in May that the weather 'switches' to the cooler dry season mode!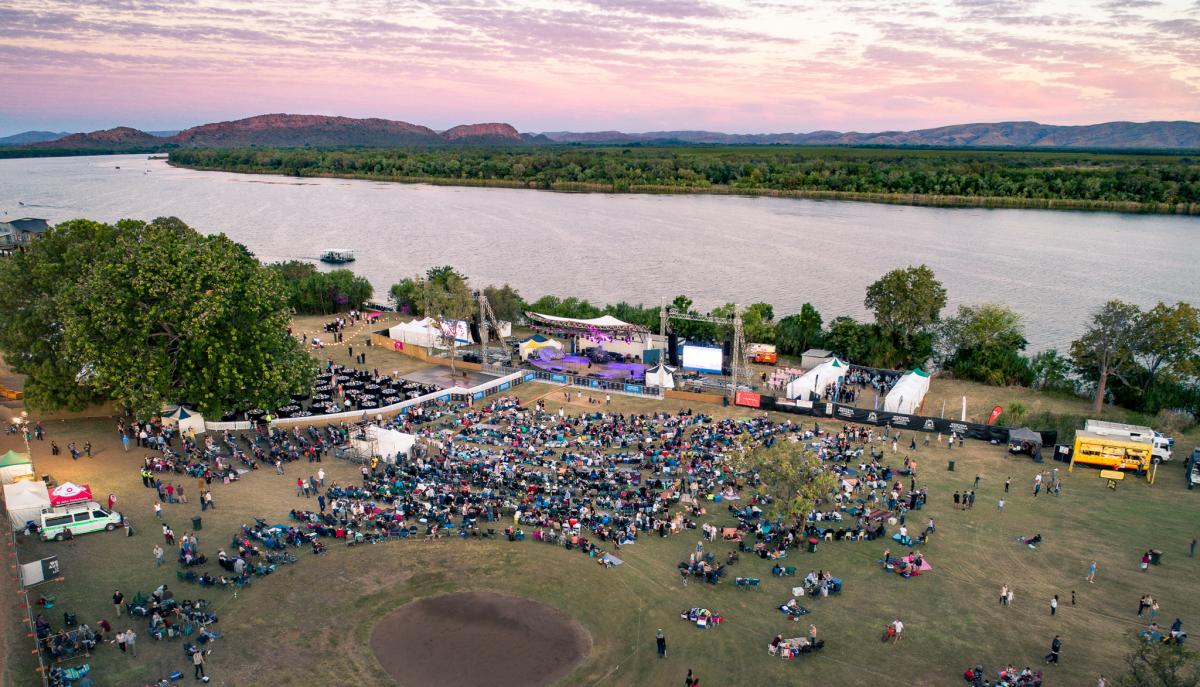 June
June can be a great month to visit, Southern Australia gets a chill while we enjoy 16'C nights and 30'C days. June does start to become busy and popular so if you don't mind sharing attractions with fellow travellers in exchange for stunning warm winter weather then this is the month for you!
Highlights of June? Everything is open and the weather is cool.
Pitfalls; the population starts to thicken.
What to do? You simply cannot miss the waterways of Kununurra; try the longest river cruise in Australia with Triple J Tours! 
Photo Credit: BenBroady.com
July 
With much the same weather as June but with some nights getting as low as 8'C and some days not quite nudging 30'C it really is a much nicer alternative to the Australian winter. A warning though, the roads take a beating and aren't as smooth as the beginning of the season and it can get so busy that it's difficult to find a car park at the shopping centre, restaurants, hotels and caravan parks fill up quickly, so bookings are necessary!
Highlights? It's the most popular month of the year for a reason!
Pitfalls; roads start to corrugate, and crowds can appear!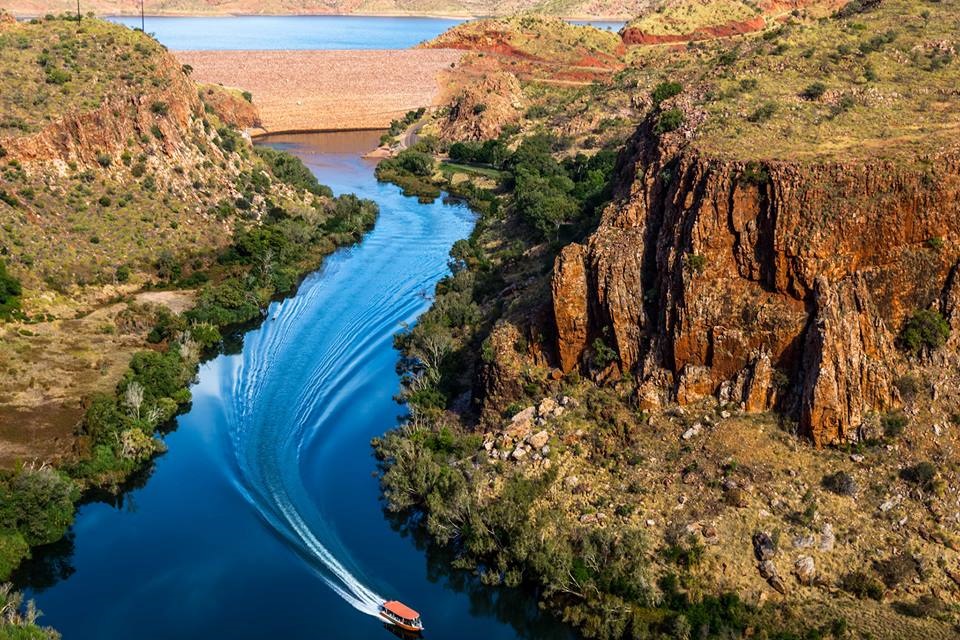 Photo Credit: www.benbroady.com
August
The nights are cool and days are getting just a few degrees warmer. The crowds do thin and after several months of no rain it does become a bit dusty. With caravan parks smashed through July with no opportunity to water between guests the grass goes dormant and the green grass starts to wear thin.
Highlights; It's the beginning of the Kununurra and Wyndham Race Rounds, the race courses are famous for being the most beautiful race course in Australia.
Pitfalls; the dust and disappearing of greenery. (Not the Racecourse though, it's the only turfed racecourse north of Geraldton within WA)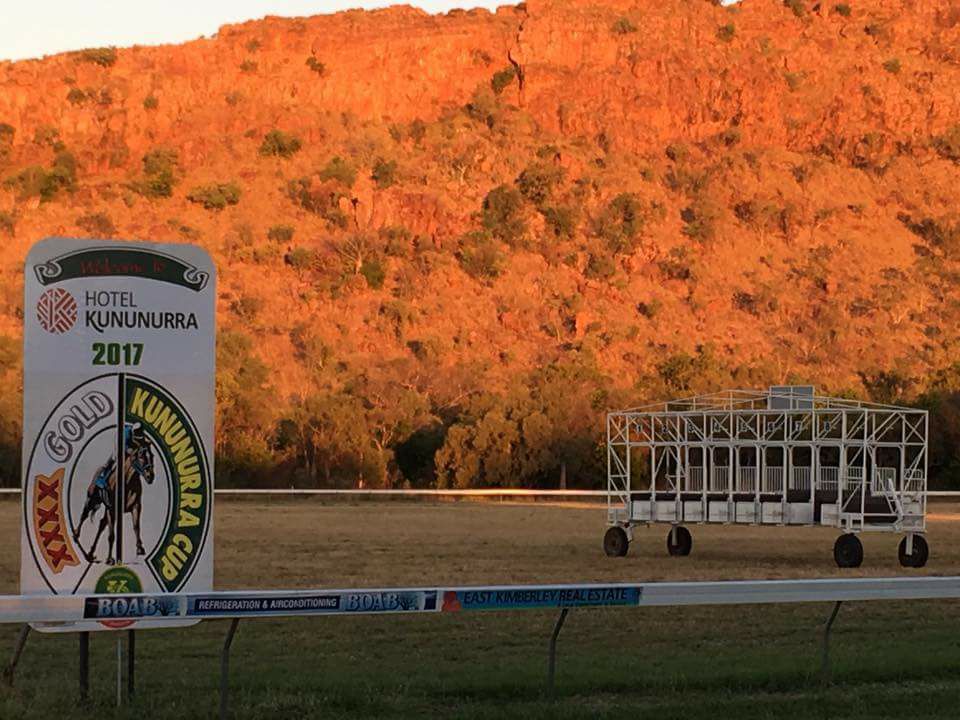 September
September can mirror May in that it's the month that the weather switches from dry to humidity heavy. The crowds have thinned out now. There are a few waterholes that are still running but many are not. Tourist attractions start to shorten trading hours.
Highlights – The warmer temperatures mean the fish are biting. Join in on the Apex Fishing Competition or the Pentecost Pro and catch yourself a Kimberley barra!
Pitfalls – We rate May over September!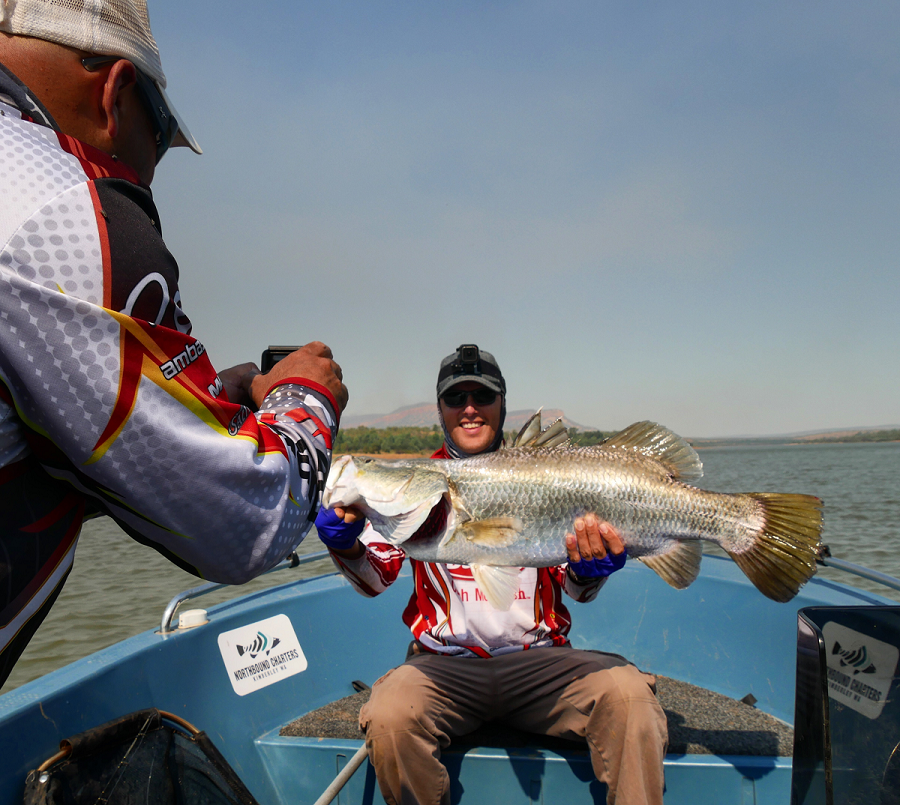 Photo Credit: Northbound Charters
October
Mango season starts and the locals start taking bets on when we might get a touch of rain. On average October gets two days and only 13mm, certainly not enough to wet the dry lands of the Kimberley and deliver new waterfalls. El Questro throws an end of season party and hibernates for the next six months. It's dry and there tends to be a few unplanned bush fires around which can close roads. 
Highlights – Mangoes, Mangoes, Mangoes!
Pitfalls – Dry, Hot Weather with tourist attractions closing down.
November
If there's one month not visit Kununurra, we have to say it's November. It's the hottest month of the year, the mangoes have stopped. The four or five days delivering 46mm of rain isn't enough relief.
Highlights – No comment!
Pitfalls – It's HOT! 
December
The second half of December normally sees the start of the "proper wet" with most locals crossing their fingers for Christmas day rain. With 141mm over 9 days, it's enough to soak the beautiful Kimberley ranges which burst with waterfalls, green grass emerges from dormancy.
Highlights – the first proper waterfalls!
Pitfalls – the first half of December can be like November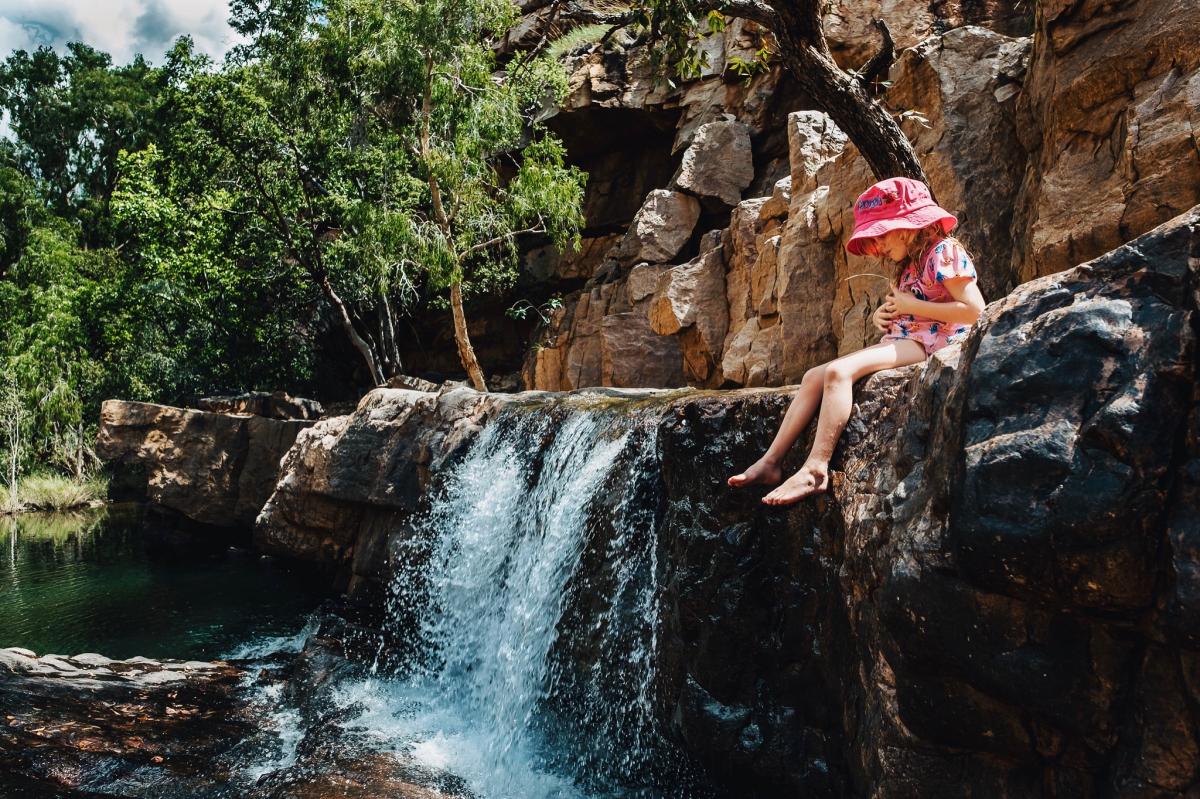 So there you have it, a full breakdown month-by-month of which time of year is best to visit the Kimberley for YOU. If you are looking for more info go to the Kununurra Visitors Centre or find out about more Things to Do